EC and Retail Tech
Digital Transformation
Eurogear 360° Digital Shift
Ready to take the leap to digital? Great, because that's our forte! We helped Italian sportswear distributor Eurogear transition its business to digital, by building a custom multi-shop e-Commerce platform, leveraging digital marketing via social media and landing pages, in addition to designing a digital-friendly corporate identity.
Productivity Boost via Centralization
Eurogear is a key distributor of Italian sportswear and protective gear in Japan. Chiefly specialized in the motorcycle arena, it handles world-leading brands like Dainese, Ducati, and VR46. Although these brands are all from the same industry, each of them have a distinct positioning and a different target audience, with ardent fans deeply loyal to them. This made it essential for Eurogear to deliver a separate and unique online shopping experience for every brand it dealt with, to stay true to the branding and communication of each. Having multiple e-commerce shops has its perks, but it can also become a huge hassle to manage product catalogs, contents, sales, and customer information of each site separately.
When Eurogear approached us to create shops for Ducati, VR46, and Ducati Scrambler, we decided to tackle the issue head-on. We proposed a multi-shop e-Commerce solution where all shops will act as a separate portal, but with a centralized backend as a one-stop place for easy management of all three brands. We decided to build this solution with Magento, a powerful e-Commerce platform with highly customizable functions and features, then funnel all customer and sales information gathered to a Salesforce-powered CRM.
A strong emphasis was made on enhancing the shopping experience for mobile users, so we applied responsive design to all three stores, which allows for the pages to be viewed beautifully through any device by the automatic restructuring and optimization of site content according to the user's screen size.
Ducati Scrambler
Ducati Scrambler, based on the iconic Ducati motorcycle, targets a younger audience that is creative, fun and free-spirited. Using the brand's signature combination of yellow and textured beige, we crafted an e-Commerce store that is casual yet hip. The slick design puts photos as the centerpiece, letting the products speak for the brand. Additionally, we carefully matched the apparel store's look and feel to the pre-existing Ducati Scrambler bike bespoke site for a seamless user experience across both sites. The site was launched in sync with the store opening of Ducati Scrambler in Harajuku, Tokyo.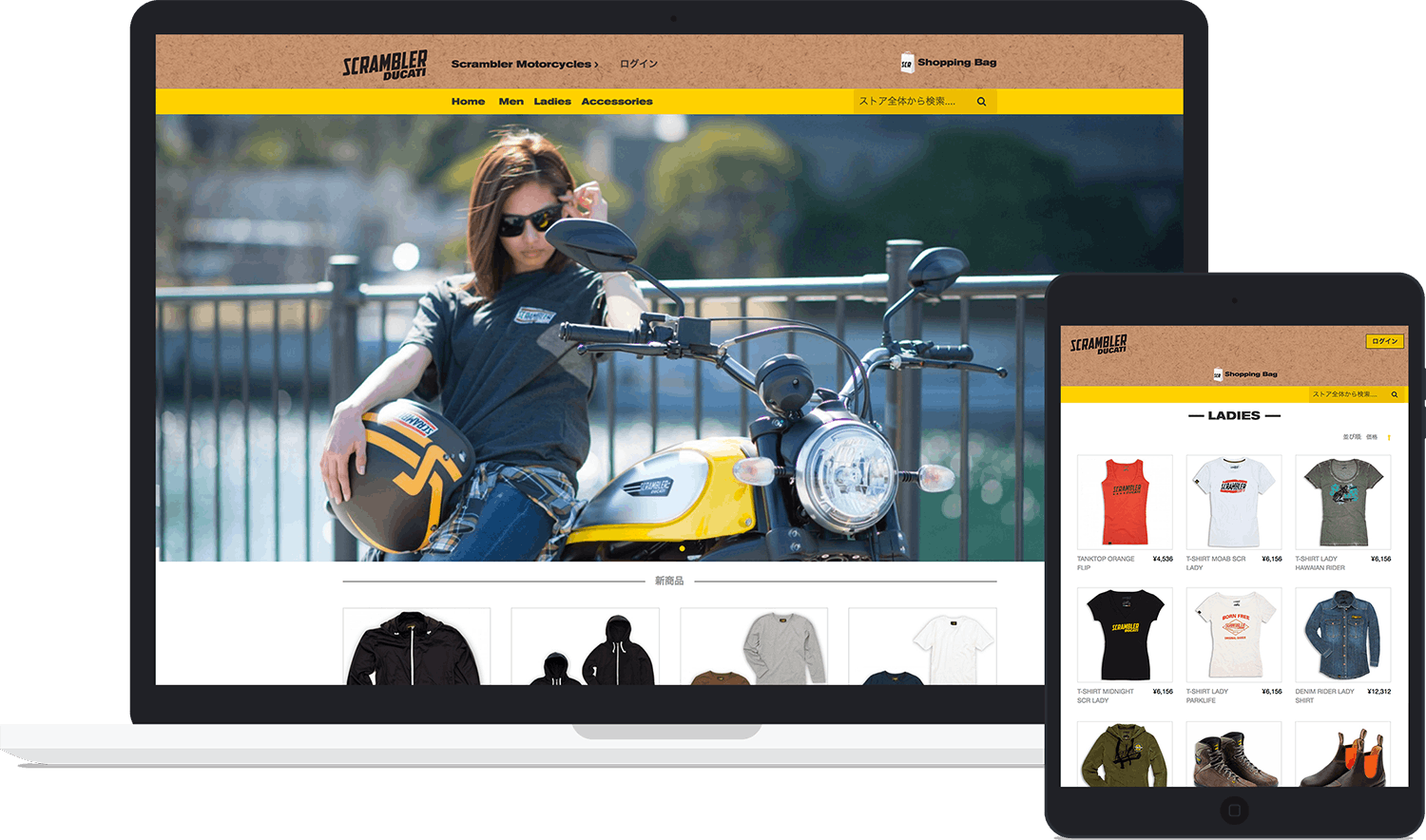 VR46
VR46 is founded on the one and only MotoGP legend, Valentino Rossi. To evoke Rossi's spirit and passion for speed, we used parallax elements, or a subtle scroll effect, to make the home page feel dynamic. The high contrast of vivid yellow, Rossi's trademark color, and black utilized across the site further gives the site a sporty, energized look. Functionally, we integrated a blog directly to the site for easy content delivery, with the most recent articles displayed on the home page. To make browsing effortless for customers, the product page features a powerful filter function with options including size, price, color, and gender.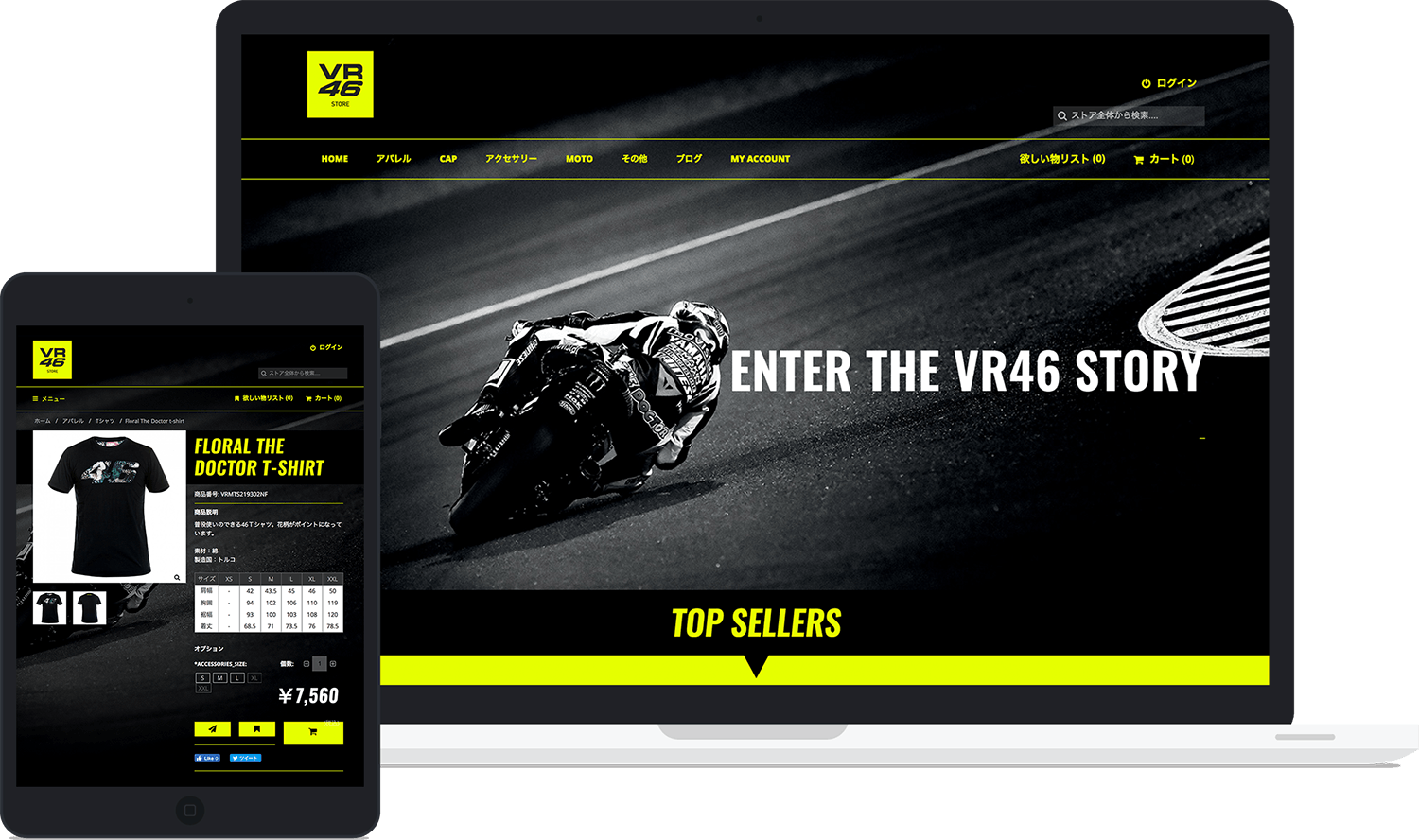 Ducati Gear Tokyo
Ducati Gear Tokyo is an official dealer for Ducati's apparel line. For its e-Commerce store, we wanted to capture Ducati's renowned Italian style and timeless, fashionable quality. Sticking to a clean, minimalistic look, we drew attention to the beautiful products, leveraging the photos in order to not only highlight the brand, but to impact their sales in a compelling way. Like VR46, a powerful filter function allows for easy browsing, enhancing the user's shopping experience. Visitors can also get a fresh dose of relevant content directly from the blog on the Ducati Gear Tokyo website.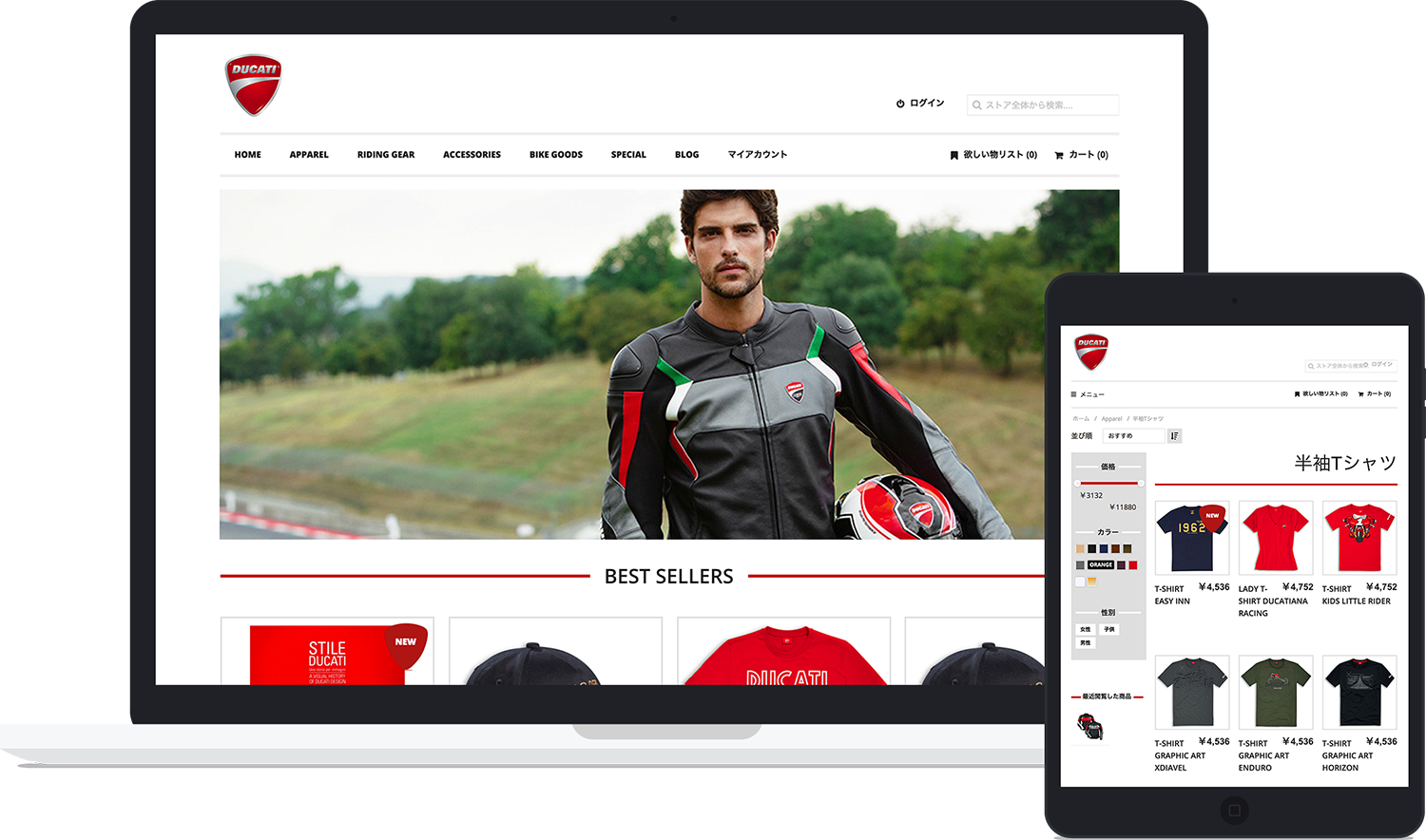 The 3-in-1 backend
Although the three brands above all have separate stores with unique branding and functions, we created a refined solution which integrates the shops to a single platform. This empowers Eurogear to view and manage orders made from all three stores on one interface without jumping between platforms, speeding up day-to-day e-Commerce operations. Products and content are tagged by brand and can easily be filtered for mass editing, so adding, removing, or updating elements for all three shops can also be done with ease from the single backend.
An Integrated CRM
To top it all off, we integrated Magento to a single Salesforce account, so customer information collected from the three stores are tagged by the source brand and sent automatically to the CRM. This automation eliminated manual input of customer information gathered online and allowed Eurogear to collect precise information such as when and what product a customer purchased and how recently their accounts were active. We have also made it possible to manually add and edit customer information gathered from physical stores and tag them by store location. With a centralized CRM system that manages customer information collected online and offline from all three brands, Eurogear can target its communication and deliver the most relevant content, while also getting a comprehensive understanding of its clients.
Activate, Engage, Connect
Eurogear is a major distributor for Dainese, a premier Italian brand globally known for setting new standards in protective gear for motorcycling and outdoor sports. In order to build brand equity, engage and connect with existing fans, and strengthen its online-to-offline efforts, Eurogear asked us to develop Dainese Japan's digital marketing strategy and manage its official Facebook account. Our goal was to increase page likes, post reach, and overall fan engagement on Facebook by delivering relevant content daily and to drive traffic to both the e-Commerce site and physical stores.
Part of our assignment included localizing the Dainese brand experience to the Japanese market. To cater to Dainese Japan's target audience further, we opened a LINE account, a popular social platform in Japan. LINE's strength lies in delivering timely information to followers in the form of a chat message, so we decided to use the channel to deliver news on promotions and campaigns, rather than general content as posted on Facebook, to avoid spamming and overwhelming followers.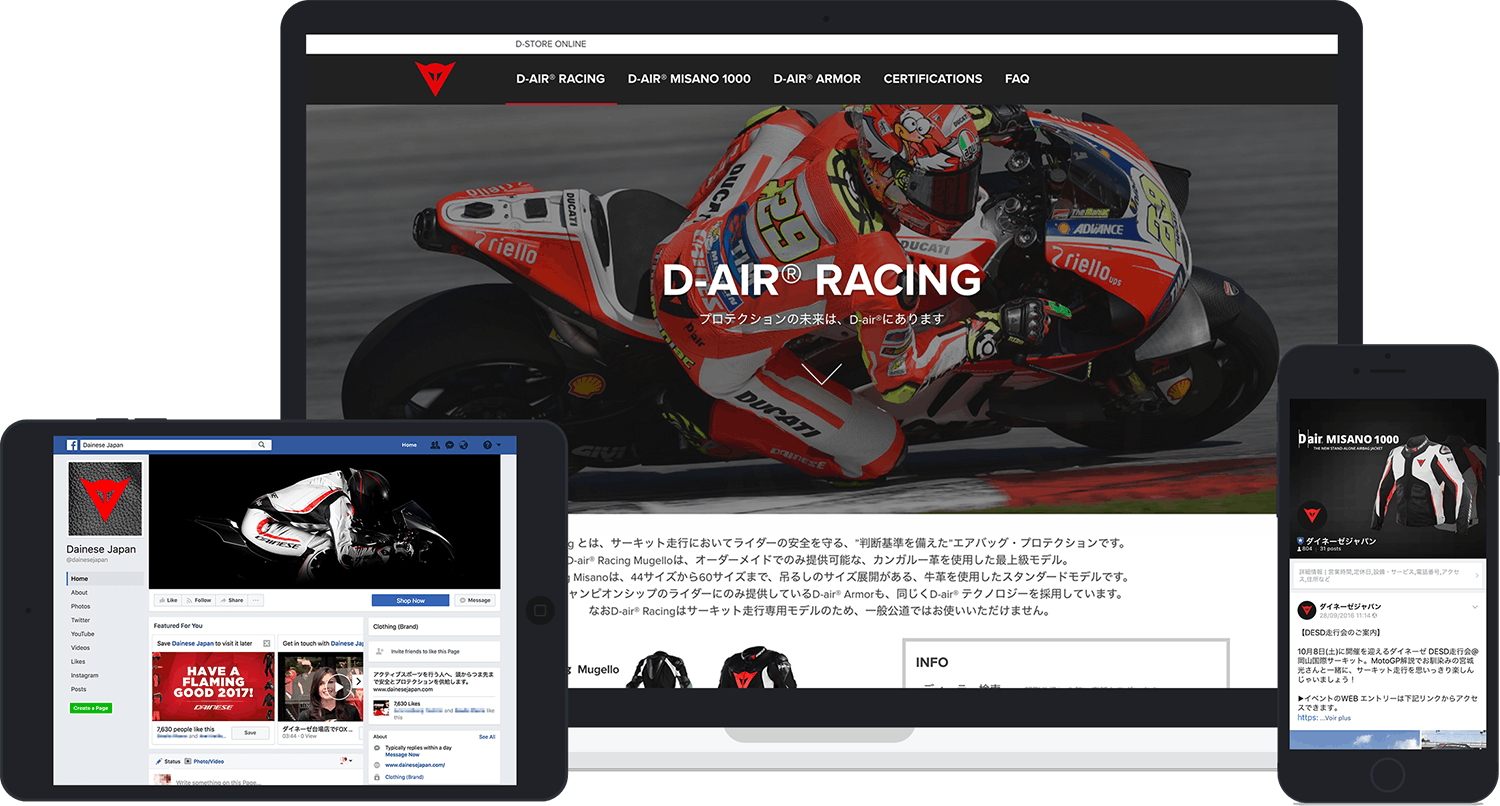 In terms of content, some posts are taken from Dainese Italy's Facebook channel and localized from English to Japanese. These posts tend to be photos and news regarding MotoGP races and product launches, shared on Dainese Japan's channel to build brand equity and awareness. We also deliver original content that is more specific to the Japanese market, such as timely product features and campaign promotions. These posts are intended to create local buzz and promote traffic to the Dainese Japan stores, both online and offline. For example, we hosted a contest on Facebook asking fans to upload a photo with their favorite Dainese gear; this generated a spike in pages likes, engagement and participation.
Aside from social media, we also built a beautiful responsive landing page for the launch of D-air® Misano 1000. We translated and adapted content provided in English by Dainese, so the cutting-edge product truly resonates with the Japanese audience. The page also features a promotional video for Misano 1000, which we translated and reworked the voice-over in Japanese.
Branding Eurogear
Looking to hire and expand its business, Eurogear wanted a brand new corporate identity that appeals to a younger pool of applicants and embodies all of the brands the company represents. Since we were already closely aligned with the company thanks to all the past projects we worked on together, Eurogear entrusted us to come up with its new identity.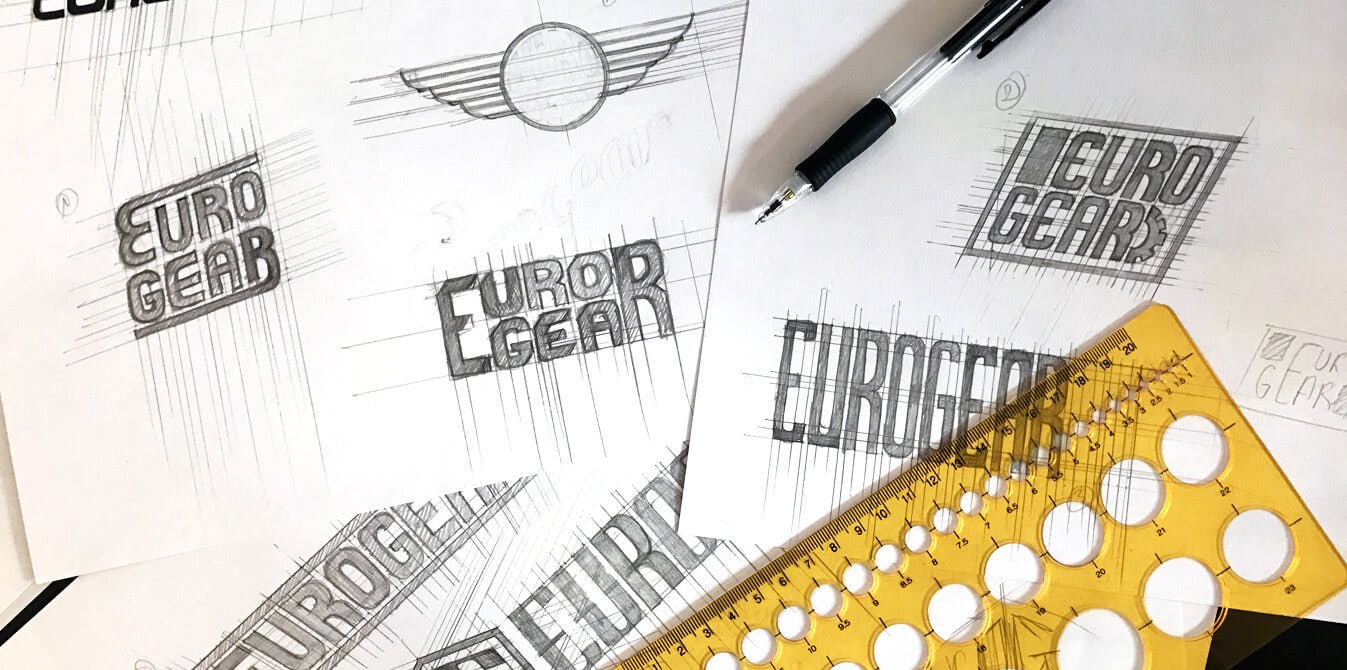 We first collaborated to brainstorm general directions for the design and the image we aimed to communicate through the identity, while also identifying particular preferences and needs from Eurogear as well. Upon discussion, we decided to proceed with a black-and-white color scheme and explore urban, trendy, European, lifestyle, and sporty as keywords. Additionally, Eurogear asked us to try out a 'monogram patch' concept for one of the directions.
We further narrowed down the keywords into three directions to propose designs for:
Direction 1: urban, minimalist
Direction 2: mechanical sports, dynamic
Direction 3: modern-vintage, European
After much deliberation, Eurogear chose to refine the third direction, which was based on the monogram patch idea. To add a contemporary and sporty touch to the logo, we decided to switch the vintage-looking serif font initially used to a bolder, round sans serif font, a typography style often used by motorcycle brands.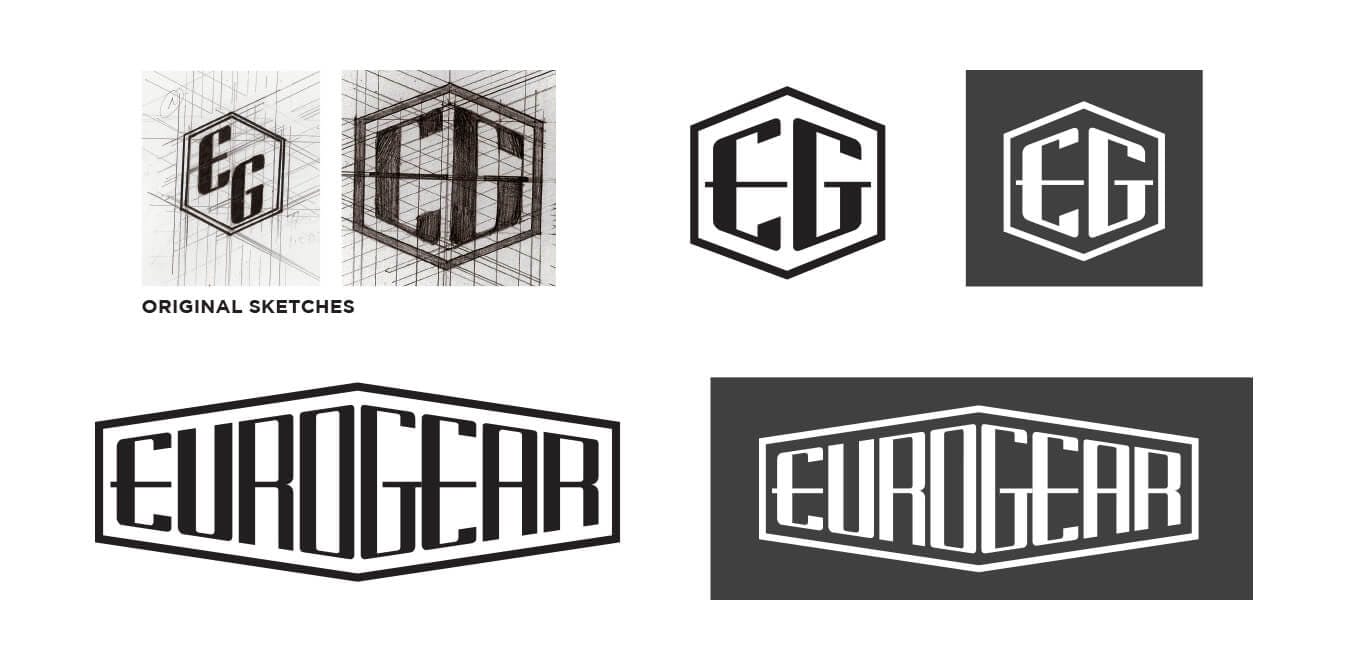 Direction 3
In our refinement of the selected direction, we played with the capitalization of the 'e' and 'g' in Eurogear, and adapted the square version of the logo in various forms, using both the full company name and the abbreviation 'EG'. Ultimately, Eurogear picked the logo using the lower-case 'e' and a capital 'g' preferring its round, natural look, and the full company name encased in a parallelogram for its square version, as showcased below.

Key Takeaway
Thanks to the digital shift, management and execution of Eurogear's operations have been simplified, automated and sped up, positively contributing to its bottomline. Eurogear can now focus its resources to where it matters most. Furthermore, our frequent collaboration with Eurogear across multiple projects has given us the opportunity to truly align with its business. In turn, we are able to continuously provide Eurogear with comprehensive solutions tackling pain points that are most relevant to its business, by fully leveraging our in-house capabilities of digital strategy development, design, coding and marketing.
ClientEurogear
IndustryApparel, Motorsports, e-Commerce